How to Enable Pilot Program
Pilot Program is a unique feature in SquadCast that allows you to test new and upcoming features before they're available to everyone. This feature is a free to opt-in feature which you can turn on and off at anytime.

Pilot Program is only available for some periods of time. You can see if Pilot Program is available by going to the About page in your Settings.
Click on your Profile Icon at the top right of the Dashboard.
Navigate to Settings in the menu options.
Select the About page on the left side of the settings menu.
If available you will see the Join the SquadCast Pilot Program option at the bottom.
Toggling this option will enable Pilot Program Features for your Organization.*
You can disable this at any time directly through the About Us.**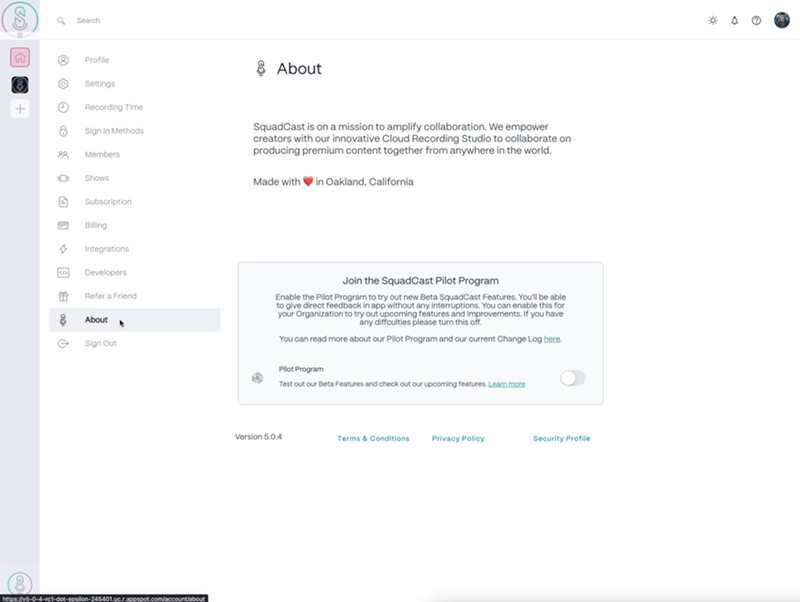 * You can find a full list of Pilot Program Features and Change Log over at https://developers.squadcast.fm/changelog and our official blog.
** Sometimes we may need to disable Pilot Program across the whole platform, when we do you will see that you lose access and Pilot Program is Disabled. This is just because we're not offering any features for Pilot Program at the time.
How to submit feedback and report issues/bugs
Since Pilot Program is an Opt-In Beta for new features coming soon; there may be potential intermittent bugs or issues. If you would like to report these issue you can use the Pilot Beta Badge on the top of your Dashboard and Studio Page to bring up a modal to write in your report. You can even leave screenshots of your issues.
Select the Pilot Beta badge at the top of your Dashboard or Studio Page.
Fill out the information in the model with your findings and be as detailed as you can be.

Please note, developers will read your messages as they come in. Please always remember to be kind and understand that there is a Human on the other side of that feedback. Our goal is always to bring you the best of features and we understand any frustrations you may have with the platform. If any feature is causing you trouble please feel free to Disable Pilot Program and return to our stable release.

You can input a .jpg or .png file into the Upload Image button.
After you have completed filling out the form you can submit it by clicking Send Feedback button.