This article will help you get started remote recording with SquadCast.
1. Get SquadCast and connect your account
If you haven't already, get SquadCast for free and link your accounts.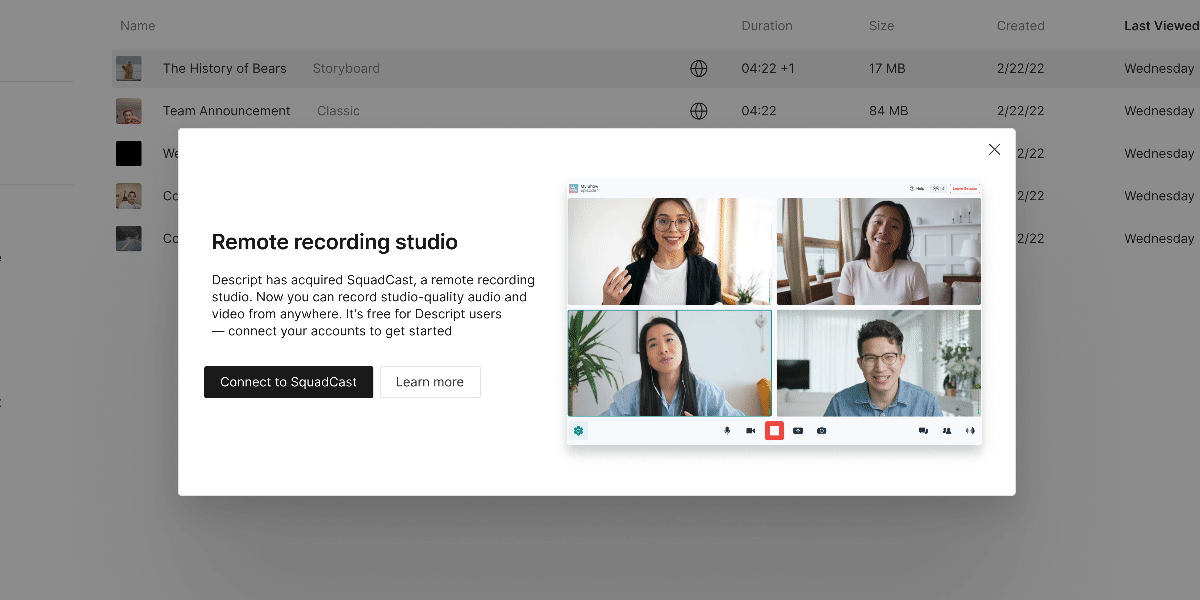 As a Descript user, you get a SquadCast account completely free. SquadCast's remote recording technology will eventually be built into Descript. Until then, you'll record using SquadCast and edit in Descript.
2. Set up a recording session
Login to your SquadCast account. You'll see the dashboard. This is where you can access any organizations or shows, and create and schedule sessions. For now, let's dive right into recording.
Select New Session > Schedule a session. Or, select Start session now to create an instant session and skip down to Get ready in the Green Room.
Set the title, date, time, and type of session you want to create.
Invite your participants—the people who'll attend your recording session. You can invite them to:

The stage—this is who will be recorded during the session.
The backstage—they'll be able to watch and listen to the session but only communicate through chat.
You can move participants from the stage to backstage (and vice versa) during your recording session.

Select Send emails to send invitations to your guests with all the session information and link to join the recording, then select Done. If you'd prefer, you can send the invitations later.
When you're ready, select Start session to enter the Green Room.
Start a SquadCast recording from the Drive view or a project
You can also start an instant session from your Drive view by selecting New + > Remote recording, or from a project by selecting invite others to recording in the recording panel.
3. Get ready in the Green Room
The first time you join a recording session, you'll need to give SquadCast permission to connect to your camera and microphone. Once you or your participants join a recording session, you'll each be taken to a private Green Room.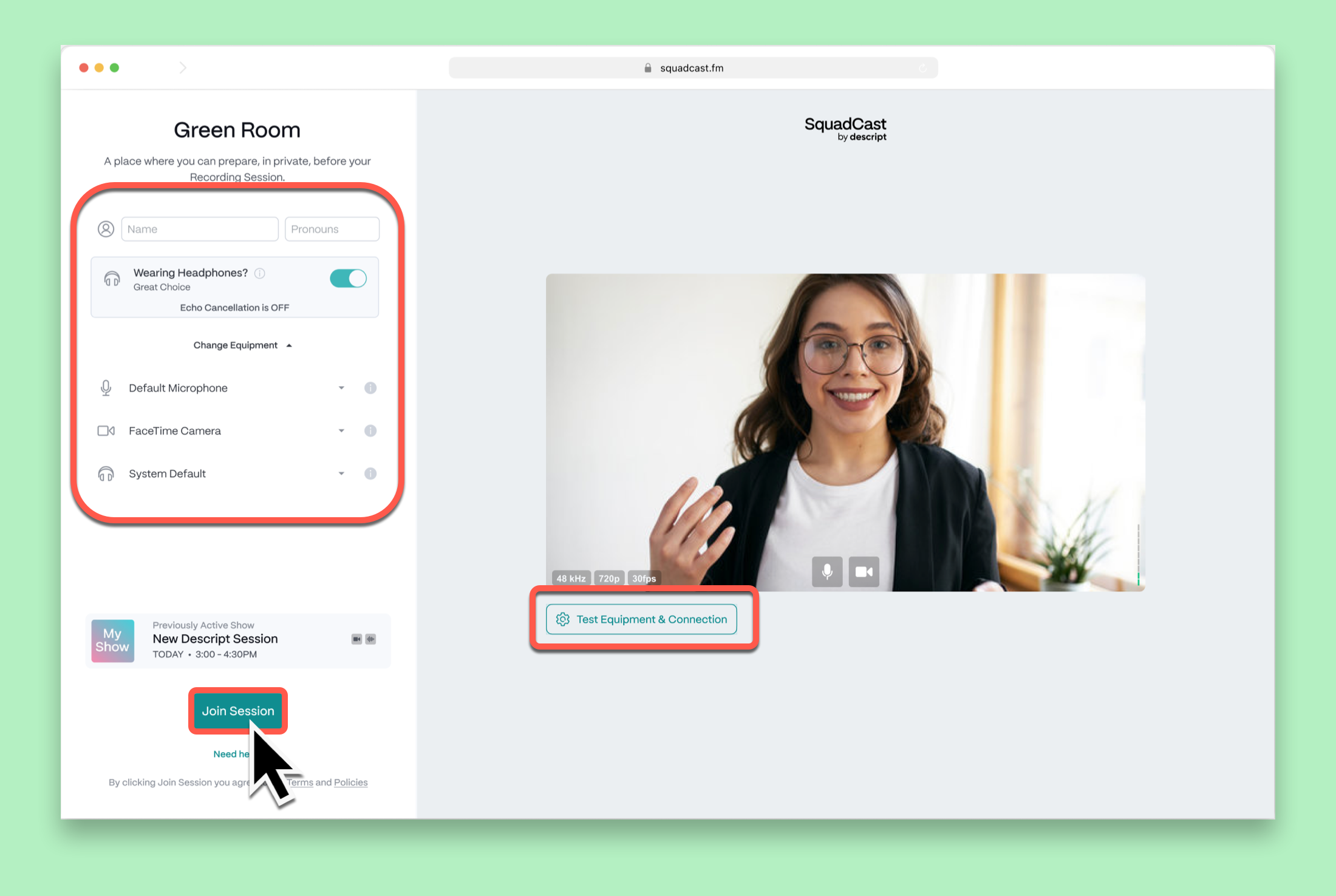 This is where you can add your name and pronouns, select your microphone and camera, test your equipment and connection, and dig the poppy seeds out of your teeth before joining the recording session.
Once you're picture-perfect and your audio is good to go, simply press Join session.
4. Record your session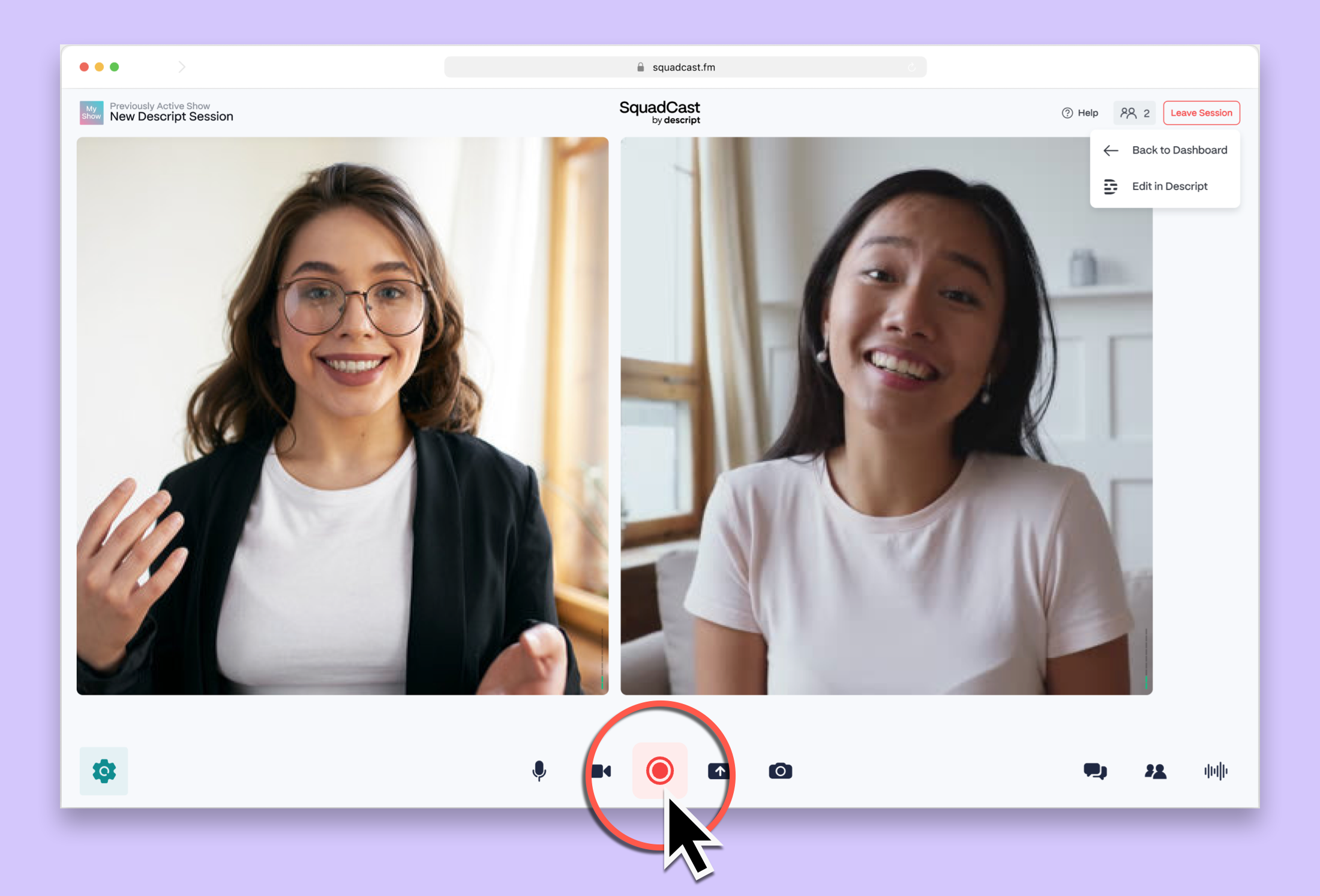 Once you're in the recording session, simply press Record to begin recording. This is when the magic happens. Note that what you see during your session isn't the actual recording you'll get; it will be much better. SquadCast captures the local recording from each participants device and then uploads it to cloud storage. That way, if your there is a connection slip up or dropout, your recording won't be effected.
Once your done, press Stop recording

. You and your guest don't need to wait around while the uploading finishes.

When you return to your dashboard, t

he recording you just made will also show up in the Recent recordings panel.
Next steps: edit in Descript
Now that you've finished recording, its time to edit it in Descript. You can seamlessly import your recordings without downloading them. Learn more about importing SquadCast recordings into Descript.